Loop the Loop
A Hilarious Musical Battle
---
Prepare to be violently impressed when master musician Gene Peterson goes head to head with multi-instrumentalist Adam Page in this phenomenal musical showdown.

Set in a boxing ring, complete with blue & red corners, each artist attempts to out-play the other with their multitude of musical abilities, continually recording each layer of music live into a loop pedal! Both performers are musical heavyweights in their own right, and as the competition is fierce, the musicians are forced to pull their best tricks out of their arsenal! Expect to see incredible drumming, virtuosic saxophone playing, and music made from kids toys, a beard, and a variety of vegetables!
Sometimes quirky, often hilarious, at times unbelievable, but always impressive..  don't miss this opportunity to see two of Australia's finest musicians go head to head in this outrageous concert for all ages!

"It's fun, ingenious and like nothing you have seen before… a unique musical event for the whole family not to be missed" - Echo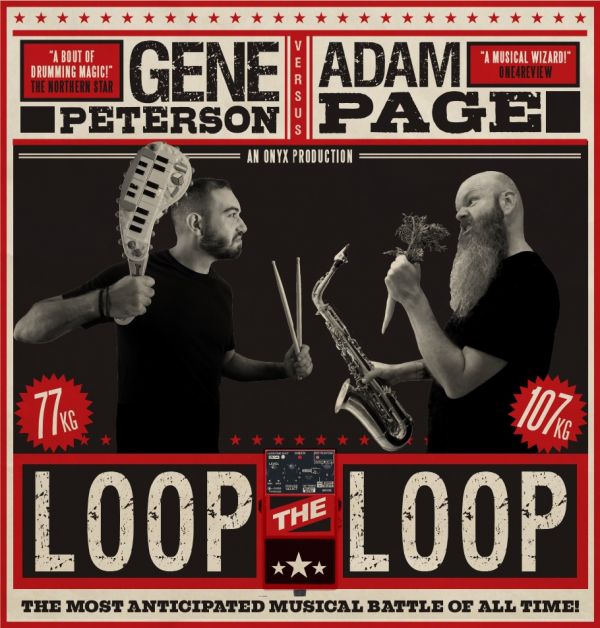 ---
LATEST NEWS
Onyx Productions is excited to announce that 'Loop The Loop' will be recreated and toured again in 2021 for it's 10 year reunion... the rematch!

With performances scheduled at Darwin Festival in August, and a 20 show season at Sydney Opera House in September/October, and a heap of touring in the pipeline over the next 12 months, both Adam and Gene are excited to get back in the ring for the greatest musical battle in the history of history, since 2011!
The show was originally created in 2010, delivered over 140 performances and workshops across Australia in 2011, and toured to South Korea in 2012 to feature at the Uijeongbu International Music Theatre Festival. 
To find out more about future 'Loop The Loop' performances and to keep in touch with the cast, please click here to find us on facebook.

To be kept up to date on other Onyx Productions touring shows, please click here to find Onyx Productions on facebook.
UPCOMING SHOWS:
Augst 17th & 18th, 2021
Darwin, NT
Darwin Festival / Darwin Entertainment Centre
Sep 14 - Oct 3rd, 2021 (20 shows)
Sydney, NSW
Sydney Opera House